The Ultimate Big Lebowski "The Dude" Costume Ideas
The Dude Costume Ideas
The Dude was most definitely a lazy man. All the Dude ever wanted was his rug back (it really ties the room together), his basic freedoms and his jelly shoes. As a lover of Lebowski, I'm guessing all you ever wanted was to be more like "The Dude." Here are our best cosplay costume ideas to live out your deepest fanboy fantasies from the film. Dress like a Dude, man.
Where to find a Complete Lebowski Costume Guide?
We all need more Dude costume in our lives
Your search for a complete Lebowski costume guide is over. If you've been scouring the internet trying to find Big Lebowski costumes, you've found the right site. Below is what the dude wears in the film, The Big Lebowski. His authentic Pendleton Westerly sweater, purple v-neck under shirt and white sneakers.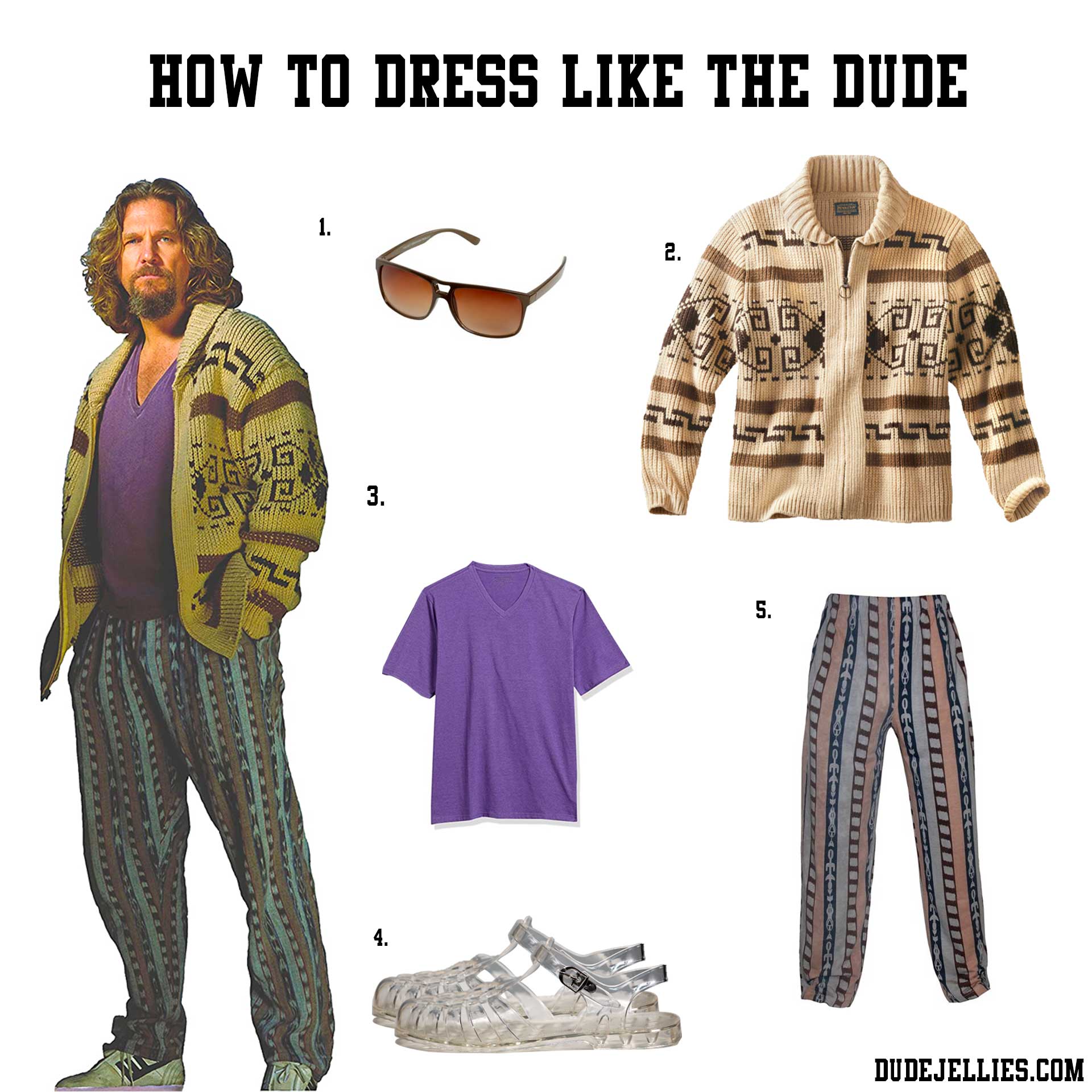 How to look great as Jeffrey Lebowski
El Duderino lives a pretty simple life. We're here to keep things simple and help bring your Jeffrey cosplay ideas to fruition. We really dig the cosplay style. From the beard, to the signature beverage of a White Russian, every detail is vital to a complete Big Lebowski costume.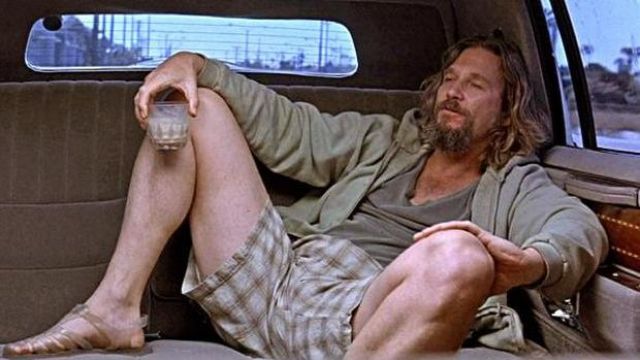 What did the dude wear? (Overview)
Get the details right
Throughout this Lebowski costume guide, our best piece of advice is to "Be the Dude" – Have some great one liners, talk like the dude, act like the dude. Ramp up your game and start drinking White Russians in the morning. Transform your persona into a next level zen master so you're ready to rock this cosplay costume, beard and all.
How can I be more like The Dude?
Being The Dude is a way of life
Warning: There's a danger you might not return from Dude World…but is that really a bad thing? The Big Lebowski doesn't care that they have the same name. He's in with the Nihilists. They believe in nothing. We believe in fair use costume ideas for your Lebowski character. And that's just like, our cosplay opinion, man.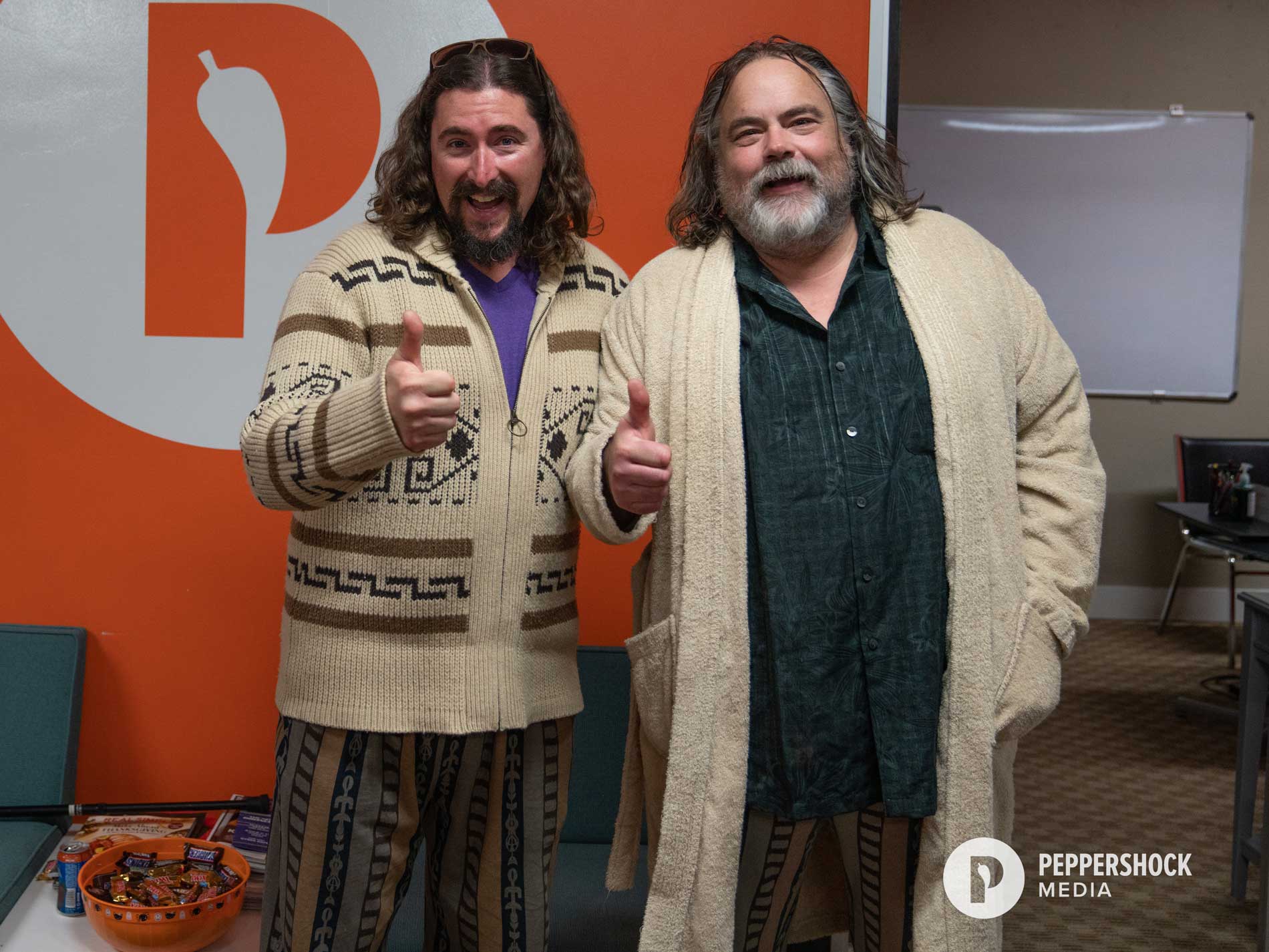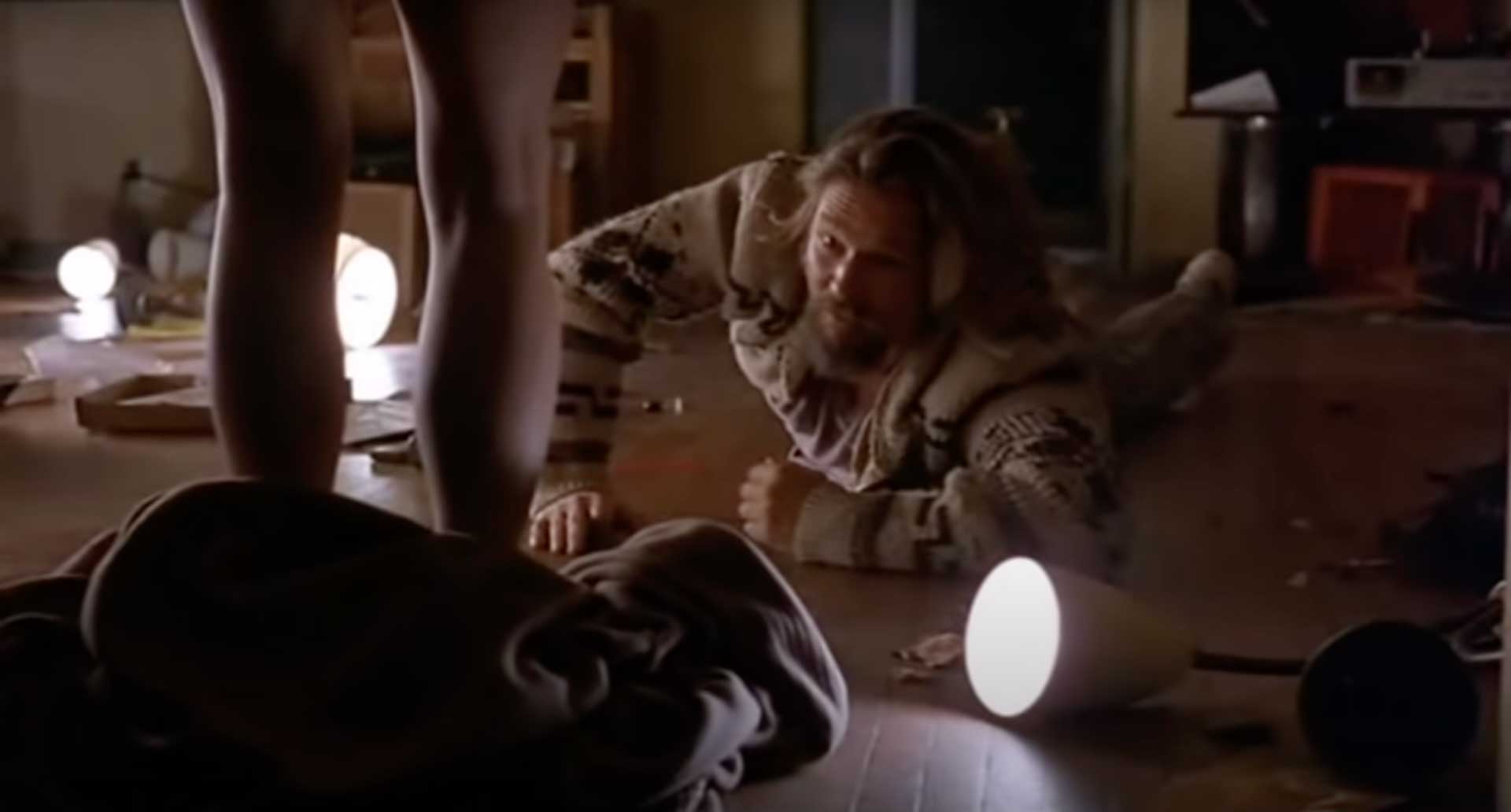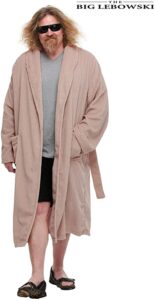 What robe does the Dude wear in the Big Lebowski?
Jeffrey. Love me.
Remember, The Dude wears all kinds of random stuff that doesn't match in the movie, but wearing his beige colored bathrobe to search for milk, writing a .69 cent check while watching President Bush talk about aggression toward Kuwait is a signature movie scene that cannot be overlooked when planning your costume.
Hey, that's my robe. – Jeffrey Lebowski
The robe falls below his knees and has a sash to tie around the waist. There's a huge pocket on the side, fair to say it's for housing marmots…or Thai stick, possibly?
Replica robes have been produced and can be found here. Just be sure to include this as first choice in your Jeffrey clothing search. Maude might even stop by for recreational coitus if you're lucky.
What kind of shorts does the Dude wear?
In traditional slacker Dude style, Jeffrey Lebowski wears a faded plaid, brown on cream pair of shorts. You can find them here on Amazon Basics, but you'll need to wear them in to get the right, "used" look.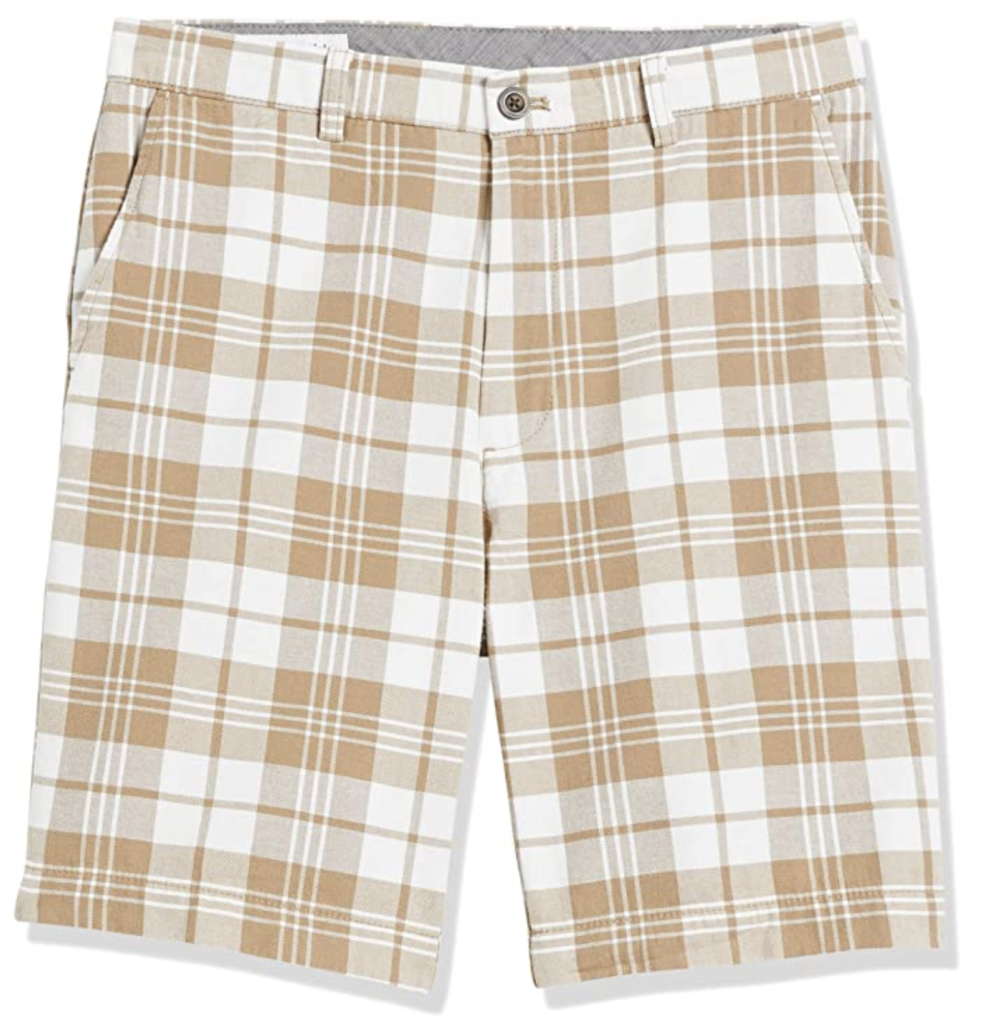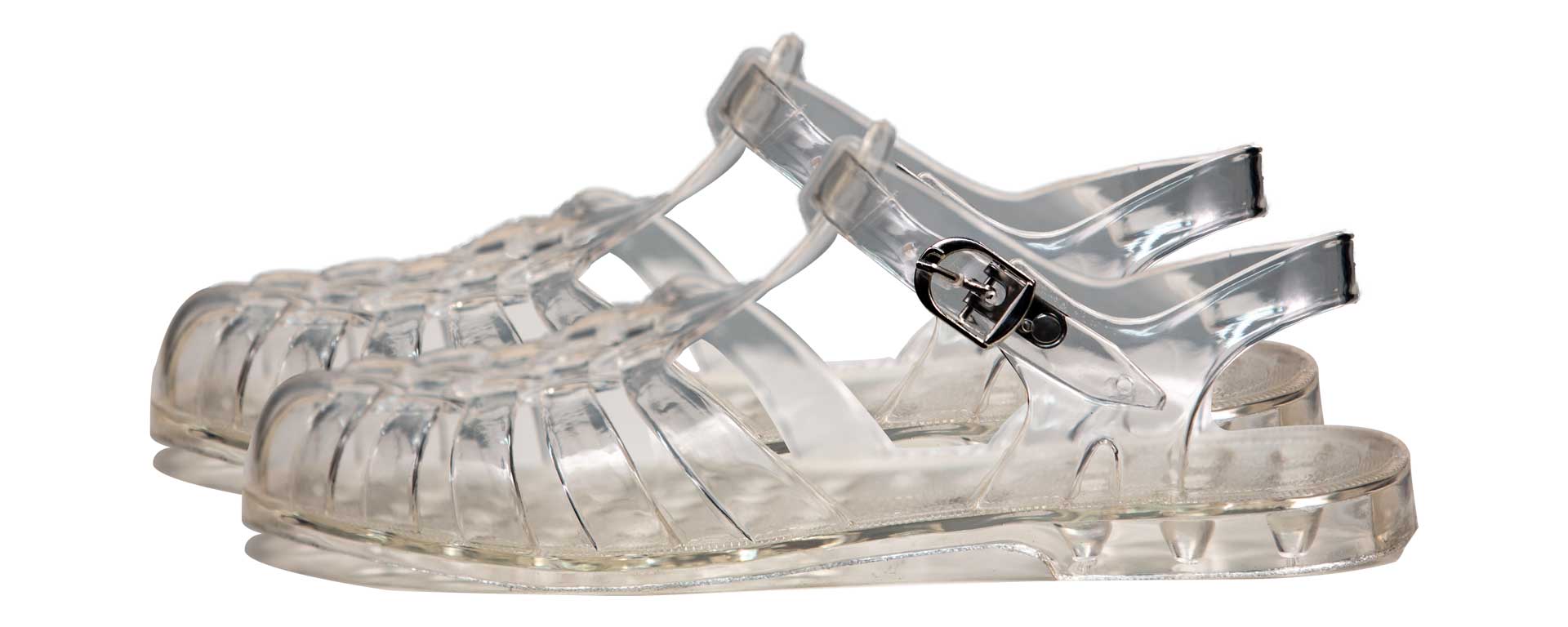 How to find those Lebowski Jelly Sandals the dude wears?
Jeffrey Lebowski was a man of minimalism. He's into that whole brevity thing. Live a simple life, ignore advertising, don't worry so much about money, spend plenty of time bowling and slip your feet into a comfy pair of jelly sandals.
Ever see those memes where people say there's no sound in space and it's a picture of a space scene from Star Wars? Pew, pew! I know what space sounds like! It's the same whenever I see a pair of jelly shoes. El Duderino clickity-clacks across the floor, slapping his feet with each step he takes dressed in his jellies. There's never a case of mistaken identity when you hear those things coming.
Who makes the Dude's sweater?
Throughout much of the movie, Jeff Bridges can be seen wearing his Big Lebowski bowling shirt advertising Media Sod. When he's not bowling, driving around, having acid flashbacks or reveling in his glory days as a part of the Seattle Seven, Jeffrey's outfit consists of a heavy wool sweater.
The Big Lebowski sweater is a story all of its own.
The Original Westerly from Pendleton was originally produced in the 1970's and worn by more of the Western cowboy type. Jeff Bridges already had this in his closet when the wardrobe director came to start dressing him for his Big Lebowski role. Maybe it was irony that The Stranger (played by Sam Elliot) was a cowboy, maybe it was fate. Either way, the sweater is the must-have, iconic piece of the costume.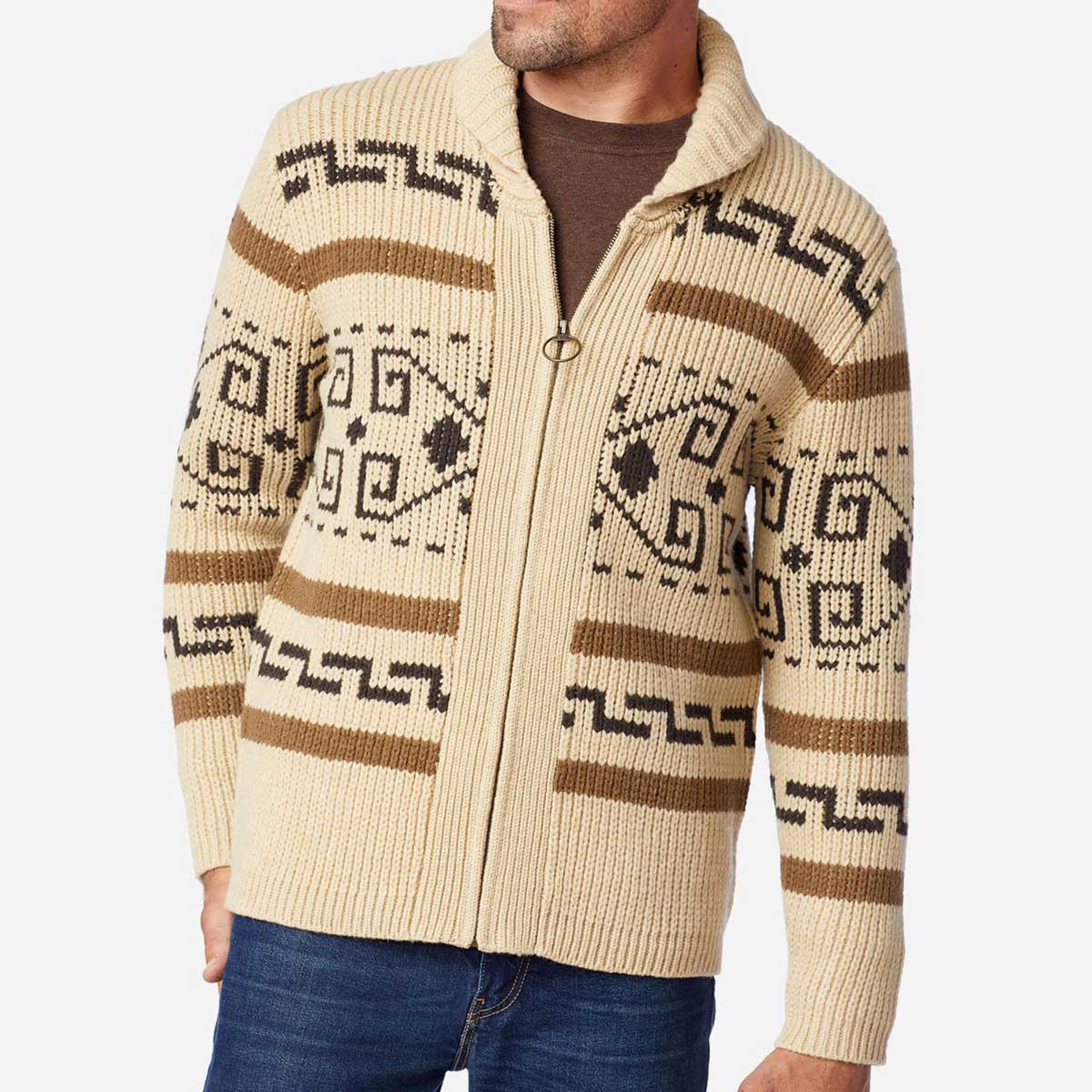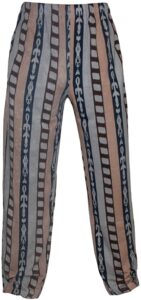 Loose Pants vs Shorts for the Dude Costume?
There's a little Lebowski in us all
Your best costume will speak to you. For example, if you're feeling Minnesota, you'll likely opt for wearing the loose pants, and conversely, if you're looking California, the shorts will be more on point. (I hope at least some of you got the Soundgarden lyrical reference there).
A Dude costume needs to match his or her lifestyle of takin' it easy.
This Lebowski costume guide is intended to be a reference for all things Big Lebowski and what this lifestyle says about your character. The Big Lebowski characters are advertising an idea, a mantra for living, an ethos. Fans of Lebowski dress like the character year-round, for Halloween, as cosplay when bowling or for a night out.
Best pair of sunglasses for Lebowski Cosplay
Now this is where you can go one of two ways. Invest in a pair of authentic Vuarnet sunglasses, or grab a very similar look alike pair as a more modestly priced option. Walter Sobchak (John Goodman) opts for the more military looking Aviator glasses in the movie, while Jeffrey can be found wearing Vuarnet Legend 03 shades with his outfit.
The right undershirt for The Dude costume
The Dude lived in California during the 90's. The go-to t shirt at the time was a v-neck, cotton shirt that when worn just right, exposes your belly when you lean back or get a crack on the jaw. Amazon actually has a great Amazon Essentials t shirt in just about any color you would want. Personally I'm a fan of the purple t shirt for bowling.
The perfect Dude wig and goatee for The Dude Costume
Unfortunately, not everyone is blessed with lovely, flowing locks of Jeffrey hair. To pull off the Jeff Bridges hair, you'll need to snag a dude wig and beard. Alternatively, you could start growing your hair out now and in two years, you may have the right look from the film.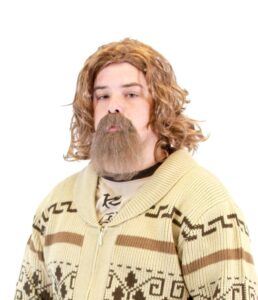 The Big Lebowski costumes for Halloween
Impress your Lebowski-loving friends this year
The Dude abides! Impress your friends this Halloween, take a stroll on the beach, go bowling or what-have-you. Just make sure you dress in your best Lebowski cosplay.
Has the whole world gone crazy!? Am I the only one around here who gives a shit about the rules? These aren't just costume ideas, these are the dress rules! – Walter Sobchak