Howdy, Dudes.
Going on a Dude influenced sonic adventure is most definitely a natural, zesty enterprise.  Having that ambient beat, drum, drone or what-have-you going on in 'ol Duder's head while writing, editing photos, filling out papers…mmm…papers…business papers, acts as a guide.  This shaman of audible enterprises walks with you on your journey.  Points out the highs, the lows, the peaks, valleys, strikes and gutters.  I think it guides you in visualization and creative stimulation as well.  I'm always imagining what type of shots would be happening in the music video for the track I'm listening to (I'm a video producer by trade, so I can't help it).
For me, man, I concetrate better when I know that DJ's like The Orb, Boards of Canada, Lemon Jelly, Hippie Sabotage, Rone or Clams Casino are along for the ride.  From a cool article I found as to why ambient music assists with productivity and concentration:
According to the study, the minimal beats and rhythms of ambient music–often used as background noise–is so effective that it is able to put listener's senses at rest, resulting in lower blood pressure and heart rate.
I think we can all agree that part of being a Dudeist is working toward low blood pressure and an even, steady heart rate.  Calmer than you are.  Knowing the Coen Brothers' style, it's no coincidence that The Dude sees himself as flying, chasing Maude as she floats off on his/her rug.  With the right tracks pumpin' through your earbuds, you too will feel weightlessness.  Total conciousness.  You'll float.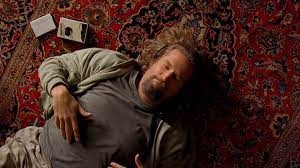 Some people refer to this type of music as Trap or Lo-fi.  Regardless of what you call it, I think The Dude would approve.  It's not Creedence or Whale Songs or bowling tourney sounds, but it runs along the same vein of laying on your favorite rug, headphones in, takin' it easy.  I made a channel on YouTube called, "Super Ultra Chill Tracks to Work to."  Hopefully you find some comfort in learning about new Dude tunes. 
Please, please…I'm always down to learn about new artists.  Drop a comment below and let me know some of your faves.
Take 'er easy Dudes and remember to enjoy the journey.
If you're looking for the soundtrack from The Big Lebowski, there's a fairly comprehensive list of tracks here.  Some YouTube videos have been pulled since this article was written, but you'll get the idea anyway.